Domestic Leased Line.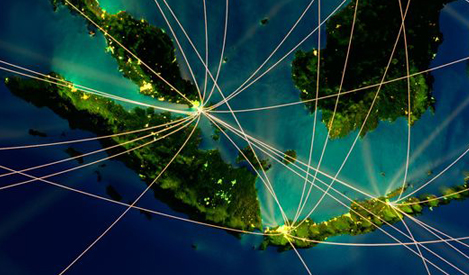 Full-Redundant Network. Domestic Leased Line (DLC) provides you with secure and reliable connectivity for integrated data, voice and video transmission with point to point. Our network infrastructure is designed with built-in SDH ring redundancy deployed over a fully digital private fiber optical infrastructure to ensure highest level of service availability and dedicated bandwidth.

The Java-Bali backbone is a full-redundant network in 4 ring forms. With this 4 core Fiber Optic backbone (approximately lies over 2,300 km) it covers 39 cities in rings. The system is equipped with DWDM and SDH technology systems with a capacity of more than 200 Gbps.

The Sumatra-backbone is a full-redundant network as well. The international and inland aggregate with the international gateway in Batam and interconnection to Java - both inland and submarine.

Benefits:
High-speed connections of upto 100 Gbps.
Redundand network connection in 11 major cities in Indonesia.
Reliable leased line connectivity with SLA 99,5%.
See Moratelindo Domestic Network